28 Weeks Pregnant
What to expect at 28 weeks pregnant? This week, your baby size is about an iceberg lettuce. He can hear, taste, and even distinguish between day and night. Interestingly, his brain will increase between 400 and 500 percent in weight from now and up until delivery. Right now, your tiny human is still piling on fat and working hard to fine-tune his organs. Week 28 marks the end of the second trimester, so get ready for your last 12 weeks of pregnancy!
Contents:
Pregnancy Symptoms at 28 Weeks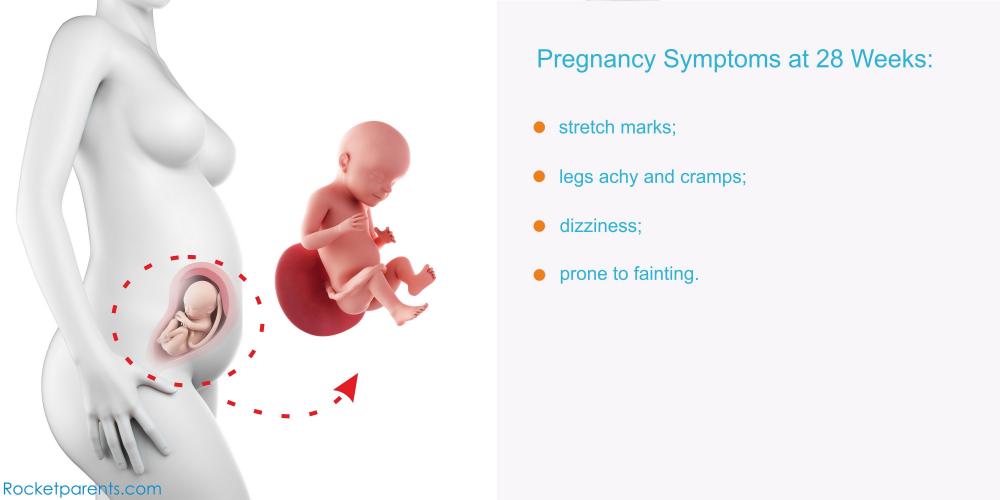 Pregnancy Symptoms at 28 Weeks
What to Expect:
Starting with week 28, you'll begin to gain about one pound per week. At this point, stretch marks will unavoidably occur, and there isn't much you can do about them. Moisturizing might help, but there isn't any evidence to show that it can really prevent stretch marks altogether. Since you're closer to delivery now, you should start visiting your doctor or midwife every two weeks or so until week 36; from there, you'll switch to weekly visits, just to make sure both you and your little one are just fine.
Your legs might become achy and cramp out every now and then. Avoid taking painkillers as they may be somewhat hazardous. Instead, straighten your calf muscles or apply hot/cold compresses.
You may also find it increasingly difficult to sleep due to your growing belly. What's more, your baby is big enough to give you some sharp kicks, so get ready for some more football playing inside your womb.
Standing for long periods of time might make you feel dizzy and prone to fainting, so take sitting breaks regularly. Some women report feeling a weird "creepy-crawly" sensation in their lower legs. If you experience it too, then you'll probably have an irresistible urge to move them while you try to relax or sleep.
Does moving your legs relieve the sensation at least temporarily? Then you might have restless leg syndrome (RLS). Iron supplements, lower caffeine intake, and massage are some ways to ameliorate the symptoms.
Your Baby at 28 Weeks
How big is a baby at 28 weeks? Your tiny human gained another 1/4 pounds this week, and now measures about 14.8 inches from head to heels (the size of an iceberg lettuce). His tiny eyes have beautiful lashes — and he can even blink! His eyesight is currently developing, and will continue to develop until birth. However, he can spotlight and even move his head away from it!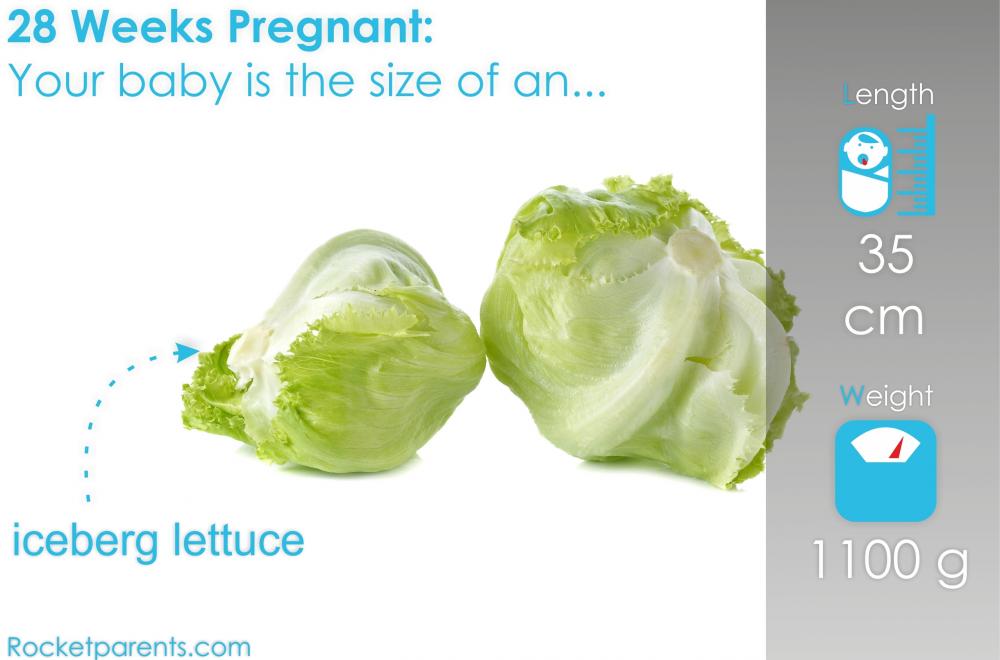 Your baby's heartbeat is so strong that anyone who puts their ear on your belly can hear it! Your doctor can use the stethoscope to pick it up as well. The brain is undergoing some major changes, and will soon be ready for the outside world. During week 28, the thalamocortical complex (part of the brain that's responsible for consciousness) begins to be active. Although he might look like a perfect newborn right now, your little one still has some bulking to do — and will continue to gain quite some pounds until birth!
Ultrasound Images of 28 Week Pregnancy
---
Bellies at 28 Weeks
---
Pregnancy Tips
If you have RLS, try cutting back on caffeine, as it can worsen symptoms.
If your growing belly is making it difficult for you to rest at night, lay on either side with a pillow tucked underneath your stomach — this will be a relatively comfortable position that will help you make it through the night. Or, you can purchase one of those specially-shaped pregnancy pillows — they're a Godsend!
Don't find excuses just to avoid exercise. Keeping active is critical to your physical and mental well-being, so try to engage in mild workouts for about half an hour every day. Also, don't forget to make your birth plan and decide on the type of delivery you want to have.