20 Weeks Pregnant
Congratulations! You're now halfway through pregnancy — just another 20 weeks left until your little one is born! Your baby is the size of a small coconut (and probably just as sweet) now. At this point, when you're 20 weeks pregnant, your belly is probably getting bigger by the day, so you'd better get ready for some serious weight gain, back pain, and frequent peeing! If your previous ultrasound hasn't revealed the baby's gender, then perhaps you should have another one this week — or even better, leave the "is it a boy or a girl?" question unanswered until your baby is born!
Contents:
Pregnancy Symptoms at 20 Weeks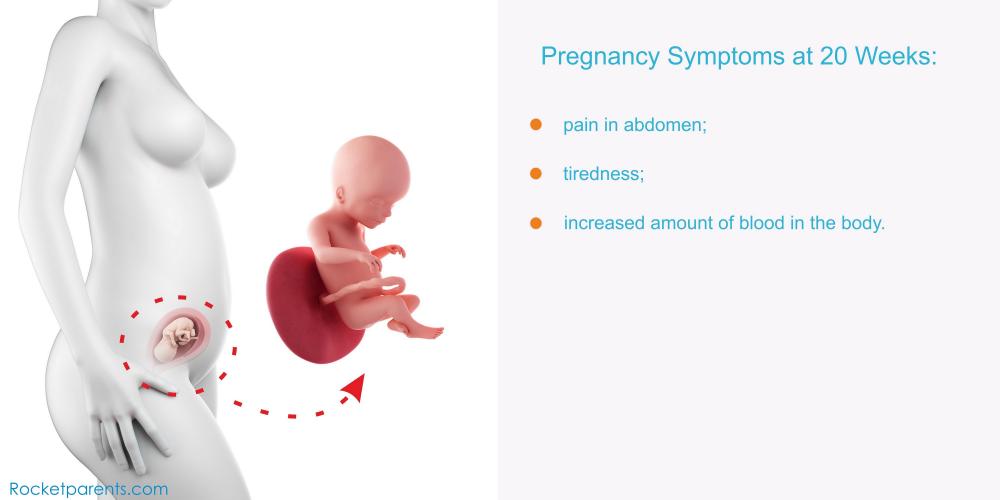 Pregnancy Symptoms at 20 Weeks
What to Expect:
During week 20, the top of your uterus is now about level with your belly button — and significantly bigger than the previous week. You've probably gained around 10 pounds already.
Pain in your abdomen is very common during this week, as the ligaments that support your growing uterus stretch and press on your organs. But as with any type of pain you experience, make sure to tell your doctor or midwife about it, just to be on the safe side.
Due to your belly getting bigger, you're likely feeling quite tired since you probably can't sleep very comfortably. If this is your case, consider investing in a specially-shaped pregnancy pillow that provides support to your bump while allowing you to rest properly every night. These pillows are also good for breastfeeding, as you can sit comfortably while your baby is eating!
As your baby is growing, the amount of blood in your body keeps increasing. It's necessary to add more iron to your diet so you can keep up with this increase — and red meat should be at the top of the list. However, don't eat too much red meat since it contains lots of LDL cholesterol and fat, as you'll end up with more pounds than you should.
Your Baby at 20 Weeks
How big is a baby at 20 weeks?your baby size is about 10 inches from head to heel — the size of a coconut! The nerves in his brain continue to develop, eventually enabling him to smell, hear, see, taste, and touch. This week, he's also producing meconium, a black, sticky product of digestion, which accumulates in his bowels. Some babies pass meconium in the womb or during delivery, however, this gooey substance is usually visible in the baby's first soiled diaper.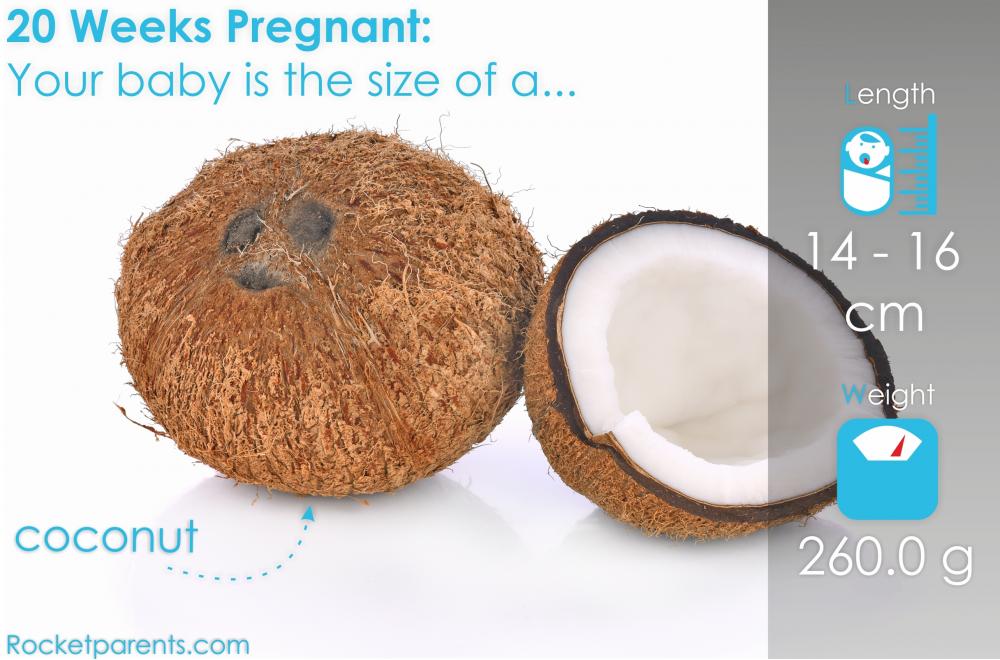 The baby's sweat glands are also forming this week. Interestingly, soon your immunities will be passed to the baby, so he himself can stave off pathogens. He's swallowing more these days, which is good for his digestive system. Also, his skin continues to produce vernix caseosa, a substance that's made up of dead skin cells, lanugo, and oil from the baby's glands. This "varnish" protects the skin against the amniotic liquid — in essence, it keeps it from becoming wrinkly. Since there's plenty of growing room in your womb, your baby can easily twist and turn — and of course, you'll be feeling all those acrobatics!
Ultrasound Images of 20 Week Pregnancy
---
Bellies at 20 Weeks
---
Pregnancy Tips
Tip of the week: add more iron to your diet. Your body needs it to keep up with your expanding blood volume. Eat red meat, poultry, legumes, soy-based products, raisins, prune juice, and fortified cereals. You can also ask your doctor if you can take an iron supplement in addition to the vitamin supplement you're already taking. Most of the time, this won't do any harm to your baby, but it's better to ask a specialist first.
You may also want to look into signing up for a childbirth education class to learn more about the rigors of labor and delivery. Attend this class with your partner so you can be both ready when the baby's ready to come!