18 Weeks Pregnant
You have reached week 18, and aren't very far away from being half way through pregnancy. Isn't this absolutely wonderful? Your baby is growing at a rapid pace, and he's already the size of a potato. At this point, when you're 18 weeks pregnant, you probably have back pain — but we've got good news! You'll start feeling your fetal movements more intensely than ever before, which is very exciting if you haven't sensed your baby movements yet!
Contents:
Pregnancy Symptoms at 18 Weeks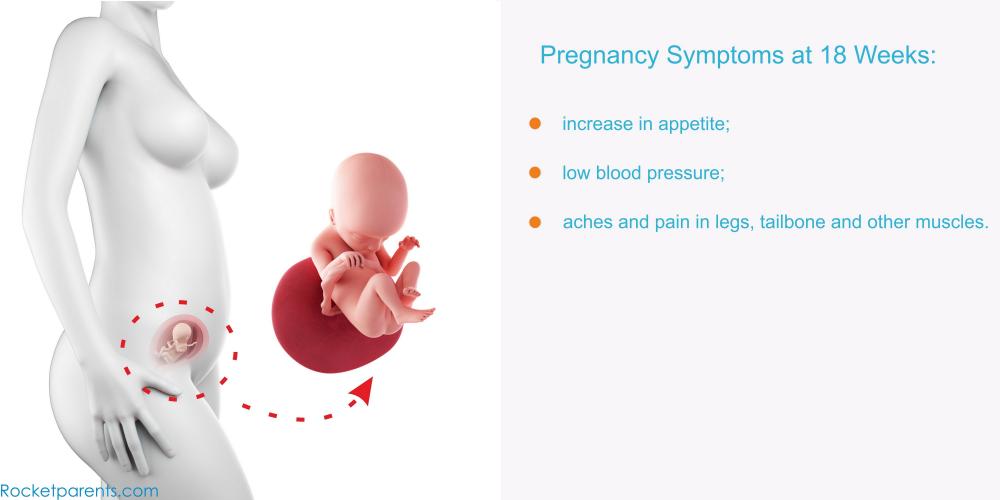 Pregnancy Symptoms at 18 Weeks
What to Expect:
During week 18 of pregnancy, an increase in appetite is absolutely normal. If you start feeling very hungry, make sure you don't overeat, especially not junk foods which pack lots of extra calories that your body doesn't need right now. Choose snacks that are rich in nutrients such as whole grains, fruits, and vegetables.
Pregnant women also experience low blood pressure during week 18 due to their cardiovascular system undergoing dramatic changes. Don't spring up from a lying position very fast, or you'll end up a little dizzy — and with your tummy getting bigger every week, you'll need to be as stable on your feet as possible!
You may also start feeling aches and pains in your legs, tailbone, and other muscles due to your baby moving around in your uterus. Although normal, it's a good idea to talk to your doctor or midwife about them and perhaps have them investigated, just to make sure there's nothing to be concerned of.
Your Baby at 18 Weeks
Although your symptoms aren't much different from the previous week, your baby still goes through a lot of changes right now. Teeth have started to form, although they won't appear until around six months after birth. Your baby size is about 5 1/2 inches long — can you believe it? —, and weighs around 7 ounces. His ears are now in their final position, although they're standing out from the head still. A protective layer of myelin starts to form on his nerves, and this process will continue for a year after birth.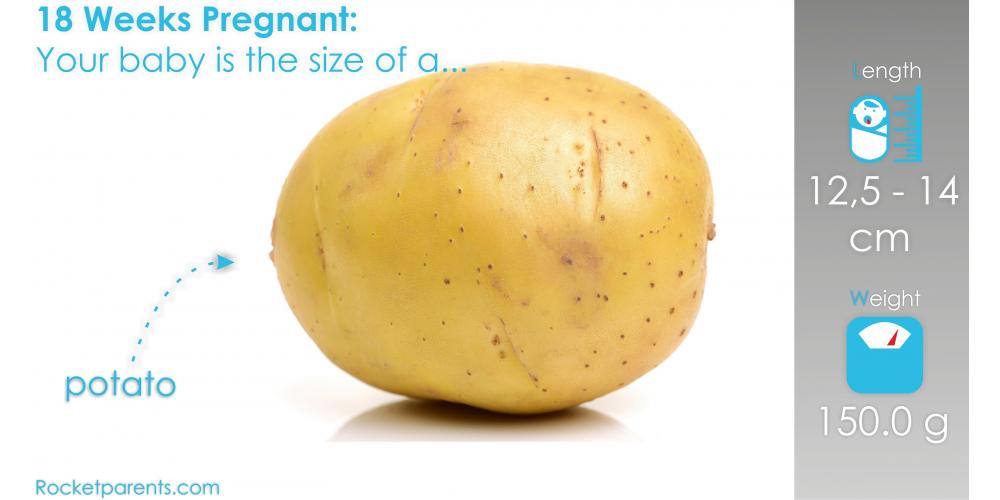 If you have a boy, his genitals are starting to take shape, although they may not be visible on the ultrasound yet given that your baby is probably moving a lot in your womb. If she's a girl, her uterus and fallopian tubes are already in place. The skill of the week? Your baby can yawn now! That's right — and if you're lucky, you can catch a glimpse of him (or her yawning) during an ultrasound.
Ultrasound Images of 18 Week Pregnancy
---
Bellies at 18 Weeks
---
Pregnancy Tips
During the 18th week pregnant, most mommies-to-be are very tempted to start shopping for baby clothes already. If you already know the gender of your baby, then you can start doing that too — and this would also be the perfect time to look up names.
Make sure you're eating appropriately, plus the extra 300 calories you need to stay healthy.
Also, exercise, exercise, exercise — with your belly getting bigger, you'll find it very difficult to stay fit!
Wear a supportive bra if your breasts feel painful, and choose loose pants and shirts so you can stay comfortable all day long.