13 Weeks Pregnant
The 13th week of pregnancy marks the beginning of a new trimester. If you haven't already, then you're probably sharing the wonderful news with everyone — and getting ready for the baby shower, although it's months ahead. Your little one is growing in leaps and bounds — and fetus's already the size of a small peach. It's the perfect time to start planning your parenthood with your partner, and think about things like decorating the nursery or putting together a budget.
Contents:
Pregnancy Symptoms at 13 Weeks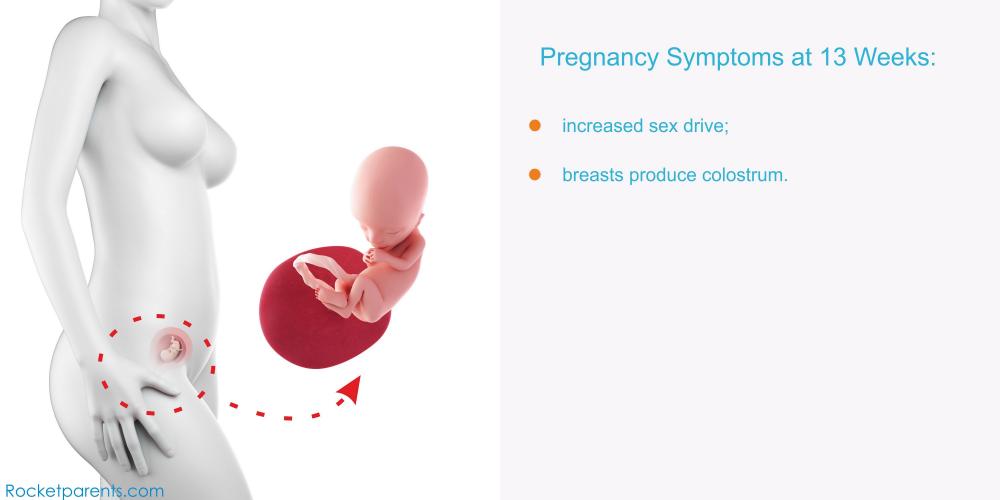 Pregnancy Symptoms at 13 Weeks
What to Expect:
What to expect at 13 weeks pregnant? We've got good news for you: as your first trimester has now ended, the risk of miscarriage is significantly lower now.
The 13th week of pregnancy comes with relief for many pregnant women, because symptoms such as morning sickness and fatigue will subside.
Although birth is months away, your breasts have already started to produce colostrums, the nutrient-rich liquid that feeds your baby for the first few days after birth, before your milk starts to flow. As the placenta takes over hormone production, your energy levels will be significantly higher as well.
If you've noticed an improvement in your symptoms, then perhaps it's the perfect time to start exercising. Yoga is a favorite among pregnant women, and can definitely help you feel much better. Your sex drive will also increase, although you may want to stay away from sexual contact, just to make sure that pathogens won't accidentally slip into your vagina.
When you're 13 weeks pregnant, your clothes will feel a little snug right now. Why not take advantage of you feeling better and do some shopping? Stock up on maternity clothing to take you through the remaining six months of pregnancy. And don't feel bad if you want to try one some stylish apparel — go ahead!
Your Baby at 13 Weeks
How big is a baby at 13 weeks? Your baby now is the size of a small peach already. Isn't he growing furiously fast? He weighs around 20 grams — but even at this size, he knows some tricks already! He can kick high legs, turn his head, swallow, yawn, and hiccup! How amazing is that?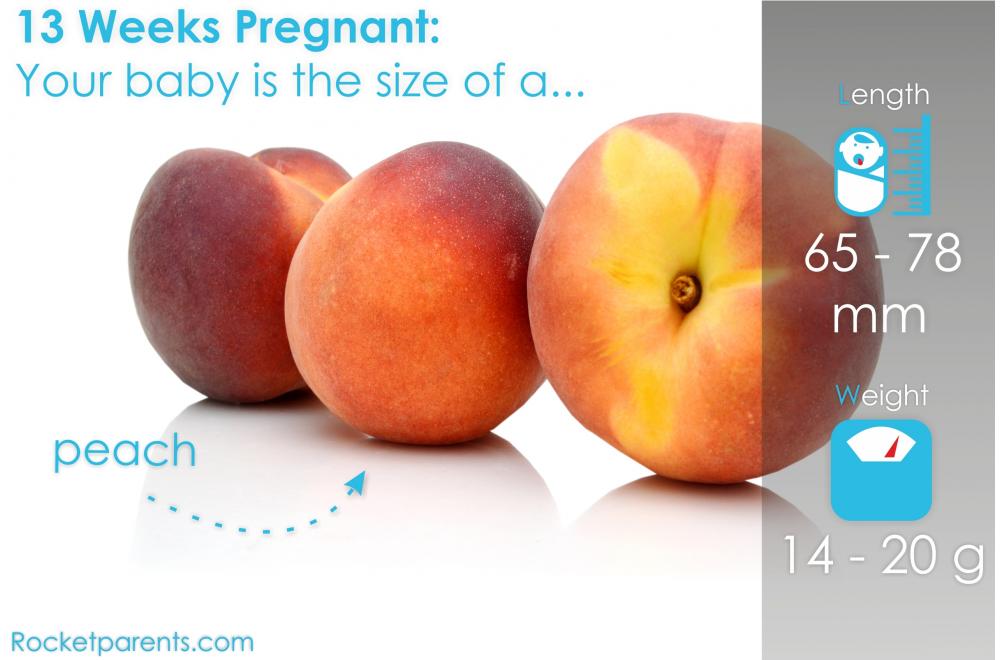 During week 13, your baby starts to develop his skeleton, including the clavicle and femur. His organs continue to grow as well, and his stomach, bowel, and vocal chords start to take shape. Your baby's lungs are in full "bloom," and will soon take their first breath. They will be getting blood from the umbilical cord, and they will be surrounded by amniotic fluid.
Since his kidneys are already functioning, and your baby can produce urine, any amniotic fluid that he swallows will be excreted. At this point, the baby's head makes up a third of the body. If she's a girl, she already has 2 million eggs in her small developing ovaries. Her bone marrow is already making white blood cells that will help fight infections once your little one is born.
Ultrasound Images of 13 Week Pregnancy
---
Bellies at 13 Weeks
---
Pregnancy Tips
During week 13, you need to eat 300 extra calories every day. Make sure each of them counts, and avoid taking them from junk food that will result in unhealthy weight gain that may interfere with the baby's development. Instead, choose a glass of milk with a few slices of whole-wheat toast instead. Aim for about 71 grams of protein, 27 milligrams of iron, and four servings of dairy every day to get the essential nutrients that your body needs to stay healthy.
Stock up on vegetables and fruits that contain fiber to aid in digestion and avoid constipation. Drink plenty of fluids every day — yes, you'll probably need to go to the bathroom more often than usually, but it helps you stay hydrated!