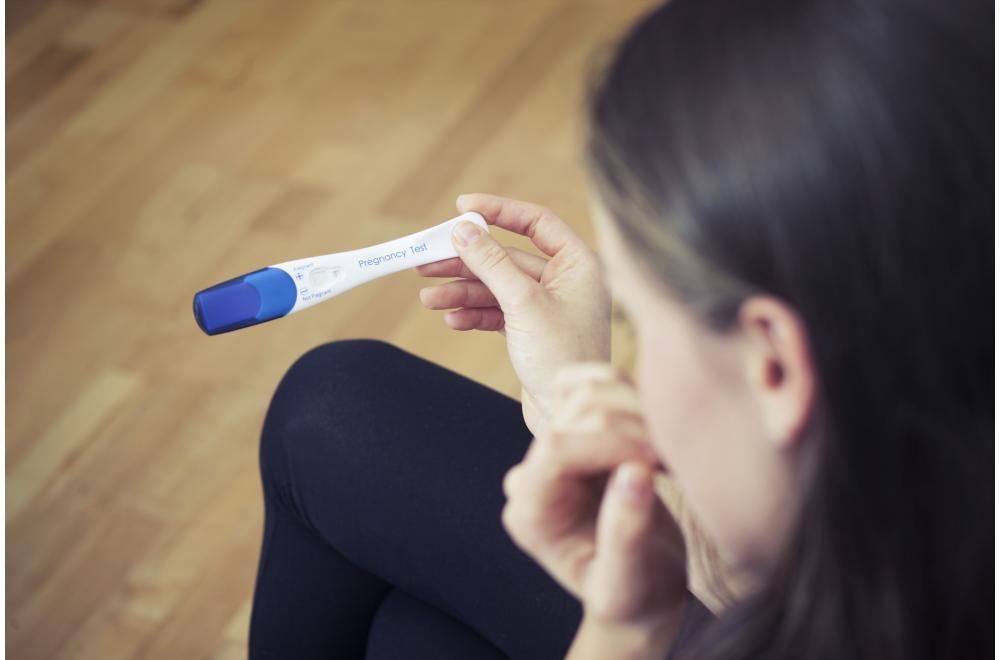 If You are Pregnant with No Symptoms
Once you have the positive pregnancy test, you expect to have symptoms right away. But what if you have no symptoms of pregnancy? Does it mean there is any problem with the pregnancy? Not really. Most women don't have symptoms of pregnancy right away until the HCG levels rise and nausea and vomiting don't begin until about six weeks' gestation.
Some women will have breast tenderness as the only symptom of pregnancy for several weeks following the positive pregnancy test. It often makes one feel like the pregnancy isn't real or that something is wrong with the pregnancy. This leads some women to want to have an early ultrasound to make sure that the pregnancy is viable.
What to Do About a Pregnancy with No Symptoms
You still need to take care of yourself even if you have no symptoms of pregnancy. This means starting to take prenatal vitamins, stopping smoking or drinking habits and beginning to eat healthily. You can continue to exercise if you are used to it and, if not, you should start a walking program, so you are healthy and fit during the pregnancy.
This is a time to be grateful that you don't have a lot of pregnancy symptoms yet and can begin to make life changes that can be hard to make. Your fetus is growing and developing rapidly inside of you, and you will be able to recognize that you are pregnant soon enough. While you have no or few symptoms, you can concentrate better on the months ahead and reflect on the bodily changes that will soon be happening to you. You can purchase a book to help you know what to expect in the coming months and begin reading before the pregnancy symptoms again.
If this is your second pregnancy, no symptoms are possible even if you had symptoms the first pregnancy. This is a good time to get your pregnancy books out and read up on things you may have forgotten from your first pregnancy. You may have less time on your hands with another child to raise so that you may need to schedule times when your first child is away at school or to sleep in order to read up on symptoms you will expect in the coming months.
No Pregnancy Symptoms After 8 Weeks?
If you have no symptoms of pregnancy but no bleeding or signs of a miscarriage either, you may want to talk to your doctor about getting an ultrasound or trying to hear the heartbeat on the monitor. This may reassure you that it is okay not to have many symptoms and that the pregnancy is still healthy. Hearing or seeing the heartbeat is a special time for both parents and is very reassuring that the fetus is doing very well even if you have no symptoms.
It is important to follow up with your doctor at regular prenatal visits to make sure all the proper medical tests are done and to make sure the pregnancy is going along well. Talk to your doctor if you are having concerns about not having any symptoms and then make sure you are satisfied that the fetus is doing well through other things, such as listening to the heartbeat or having an ultrasound.
Eventually, most women will have symptoms of pregnancy, such as nausea, vomiting, heartburn, changes in cervical mucus, breast tenderness and a feeling of growth in the abdomen. If you have had endometriosis, pregnancy symptoms may be very strong or mild.
With endometriosis, the endometriomas may start to go away because of the hormones of pregnancy and the cramping, while it tends to be more obvious in pregnant women with endometriosis, will eventually dissipate so that pregnancy can actually be helpful in ending the terrible symptoms of endometriosis. Pregnancy is difficult to achieve if you have endometriosis, but, once it happens, it is considered a relatively normal pregnancy with no increase in risk to the fetus. Consider yourself lucky if you were able to get pregnant with endometriosis; the symptoms you have been a sign of your success in getting pregnant with this gynecological syndrome.
When You Get Pregnancy Symptoms
How early can you get pregnancy symptoms? Eventually, nearly every woman will have some symptoms of pregnancy. These tend to fluctuate as the weeks of pregnancy go by so that, while first trimester symptoms (from the first week till the thirteenth weeks of pregnancy) of fatigue and nausea give way to increased heartburn and an expanding belly, your doctor will be able to help you get through these and other symptoms of pregnancy you may have.
Every woman's pregnancy is different. Some will have many symptoms of pregnancy while others will have very few. Do not be discouraged if you don't have a lot of symptoms of pregnancy because it may mean nothing at all. Plenty of women have had few symptoms of pregnancy but will go on to having healthy newborns after the nine months of pregnancy.