After having gone through a chain of unsuccessful relationships with wrong guys, you finally feel ready to have a new beginning with a new charming prince. Of course, half the battle is about finding the right person but not less important is to become that right person for your chosen one. Therefore, when it's all about to start, the first question you always ask yourself is how to be the best girlfriend.

Well, we must not overlook the fact that the ideal is objective and individual, however the notions of good and bad are approximately the same. In case you are obsessed with the issue of how to be perfect, relax, you will never be! Moreover, perfection is rather boring.
However, it doesn't mean there is nothing to work on. It's not really important what you have had in the past. If you are building new relationships, the right moment to make conclusions and focus on self-improvement has come. It's not easy to understand what is the prerequisite for building durable relationships but there are some perfect girlfriend tips to follow and we are going to share them with you.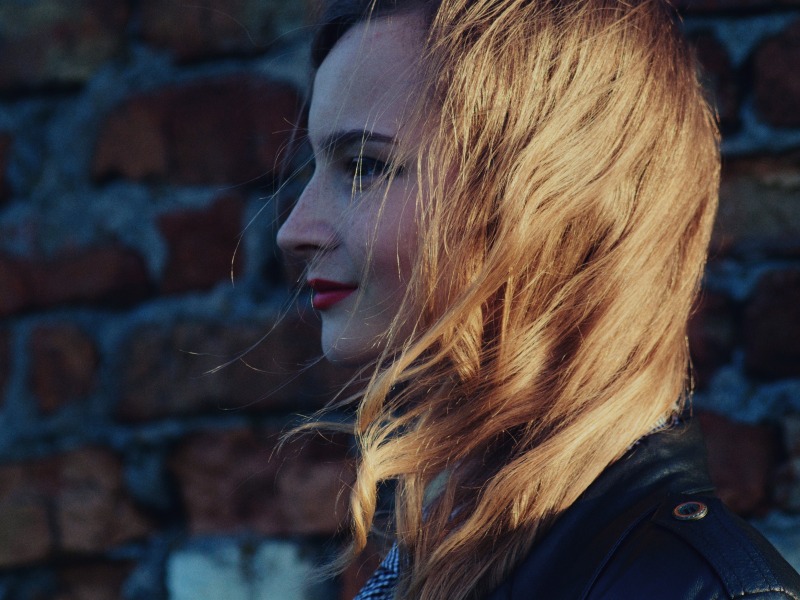 Source
1. First of all, make sure you don't expect something he can't give

Why is it the first step? Well, if you see that the man is clearly not good for you, you will never be good for him. in the beginning there is always a chance to change your mind with minimum time wasted and harm to your feelings. It's important to understand that if there is something you don't like from the start it might change for better later, so don't carry it to a deadlock.
Figure out what you really want and build your life around your own aims and persuasions, choosing the partner who would give the support and follow the same way you go. No matter how nice is your dress is if he likes shorts, no matter how good your cakes are if he likes meat and no matter how deep your words are if he doesn't understand your language.
That's why it is so important to choose someone who would be on the same wavelength with you since one of the key issues of successful relationships is having a common ground.
2. Take a hold of yourself
Once you make sure your chosen one is really good for you, don't forget to make sure you are good for him. There are so many mistakes we girls make when blinded by emotions or uncontrolled feelings, which don't really help to build a love union of a dream. At the same time, it's rather easy to avoid them becoming a better version of yourself.
Let's try to figure out what do guys hate the most? One of the first replies that comes to my mind is complaining. Never complain about him!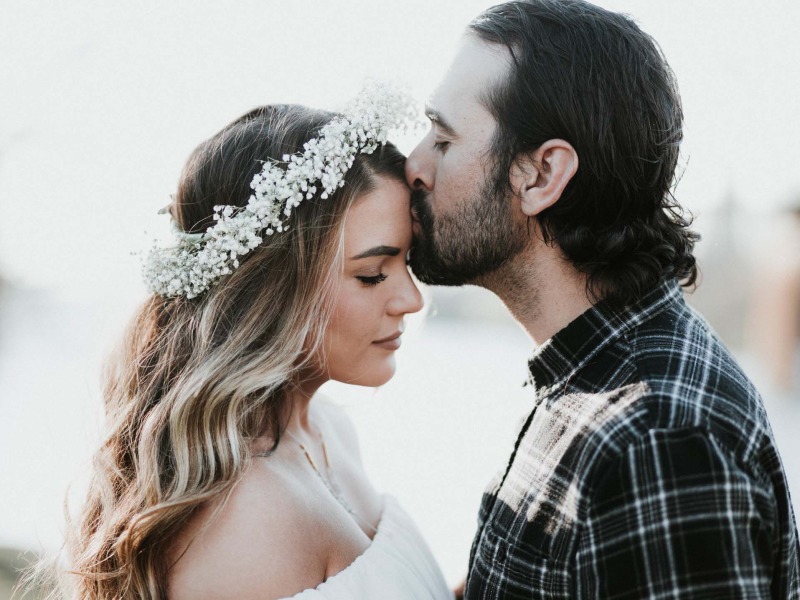 Source
It doesn't mean you can't share what bothers you with your significant other but it's important to choose the right moment and the right intonation. Yes, it's hard to resist sometimes, however, try to come into his world. Who would really want to keep listening to endless reproaches? Kindness and mildness will help to avoid arguments and have things your way in the end.

3. Don't compare him to anyone
"And my ex would always get me flowers for no reason" never even think to pronounce these words. Would you like to hear the stories about his ex being good in bed? I bet no and it's completely the same. Even if there is a thing about your boyfriend you like less than about somebody else, never let him know. Past is past, no matter what. Everyone is good and bad in their own way but nobody likes comparison. Reckless phrases can only become a reason to argue.
4. Best girlfriend is an interesting girlfriend
Relationship is in a full swing and you are ready to live this fairy tale with your beloved one, dedicating all your spare time to him only. Right, what else to desire when you two are completely happy together? This is a danger, for you are risking to lose yourself and something that made him fall for you.
Keep meeting friends, don't give up on your hobbies and your daily life. It's important to let him know you have been a full-fledged personality without him and you are staying the same with him. For sure, you have to consider your partner in your plans but don't lose your own independence.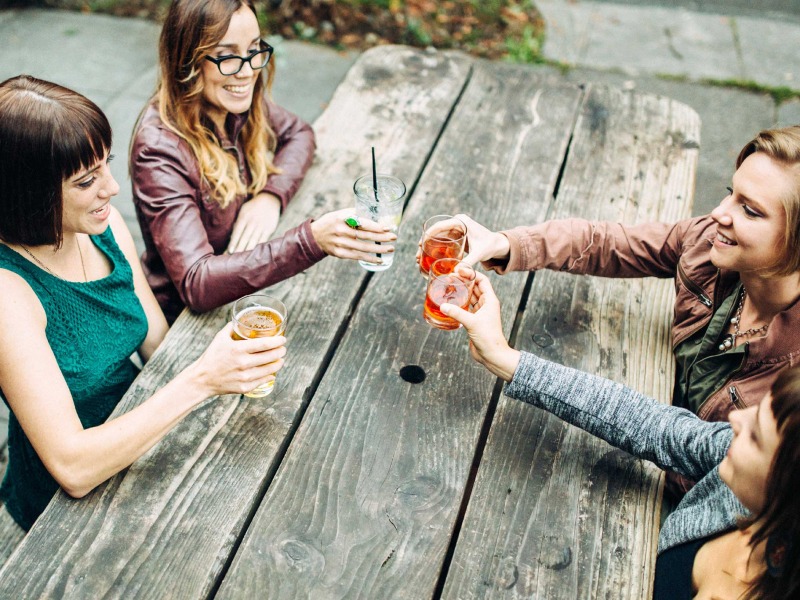 Source
5. Create your own landmark events

Special moments shared with someone bring together even unknown people, imagine what they do with close ones. It's Not always you have a chance to go through the landmark events by happenstance but you can always create them.
A First time trying something together, a joint trip or even just a picnic for you two only will arouse the affection and take your relationships to a higher level. You will always be associated with those sweet memories and places with him, which makes the bonds between a couple tighter and stronger.
6. Share his interests
Widely known, opposites attract but there is no need to mention how important common ground is. So what if you are not really into baseball in case your chosen one is found of it, not a big deal that cars don't attract you much if he wants to tell you about the new racing model he has read about recently. Inform yourself to be able to support the conversation.
Of course, you don't have to fill your life with his interests and become a die-hard fan or a motor mechanic but he has to be in with a chance to talk about what he likes with the one he loves.
Being a good girlfriend is never easy but you are dreaming of building a relationship with a perfect boyfriend and this is exactly what you have to be. Nothing's the matter if from time to time you watch a game with him, or listen to his music, or play poker, it could be anything, show you care and he will feel closer to you.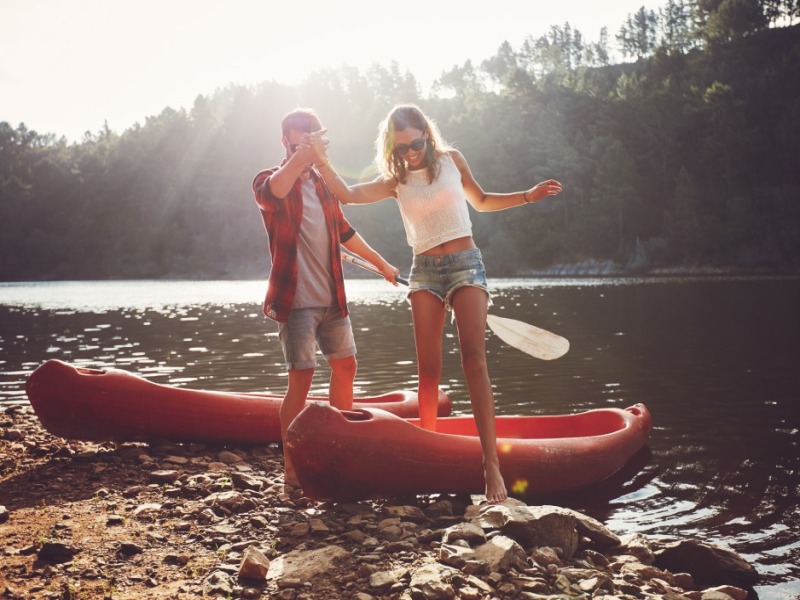 Source
7. Be full of surprises

Even if there are a lot of things you are good at, there is always something new to learn. Impress him with an unusual recipe, invite to a new art gallery you've read about or dedicate him a dance you've learned for a special occasion. To keep your relationship fresh you always have to stay fresh yourself, discover something new, go for uncommon hobbies, read books etc.
It's important to stay charged and inspired sharing it with your significant other who would charge and inspire you back. This is one of the keys how to be a better girlfriend at all times. Improve yourself to impress your partner. Be sure, personal innovations will only make your love alliance stronger.
8. Beauty is the power
By all means, he loves you for your soul but beauty and self-care are always there. Seems, like it's a woman basic instinct to groom herself when she is single but some relax and lose a grip while being in a relationship. It's One thing to attract somebody, but a different story is to keep that one around.
When you fell in love with your partner for sure you had a particular image of him and even more sure that you would get upset if this charming image would start vanishing. Even if now you live together, it doesn't mean your boyfriend has to see your hairy legs or filthy razor. Everything we go trough on the way to perfection has to stay off-screen, only the eventual result matters.
And it really does, so keep in mind to pay attention to your appearance, first of all for yourself but also to pamper your beloved one.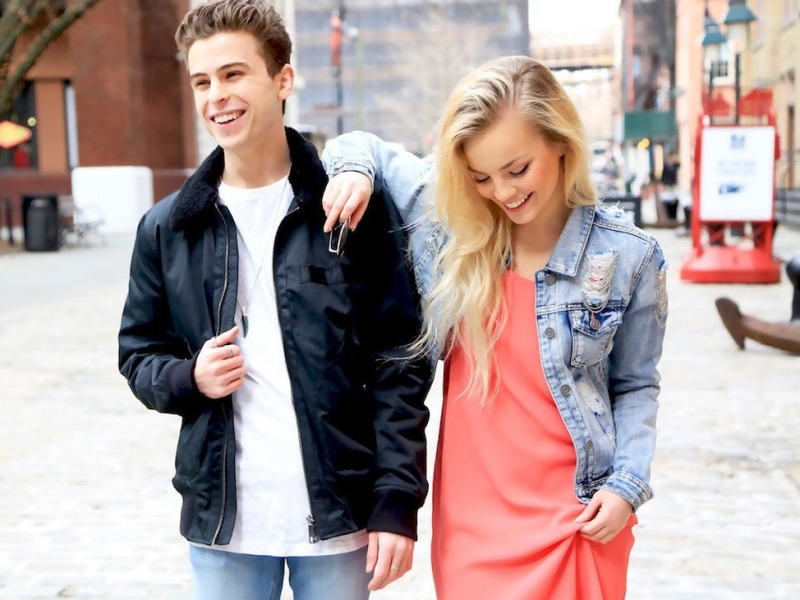 Source
9. Build plans and achieve something together

Even the most amazing relationship needs to be kept up. Sooner or later, just enjoying each other will no longer be enough.
Life suffocates without a purpose, same story with life in a couple. Set goals together and achieve them in two. You can begin with something small going ahead hand by hand, investing in your mental, physical and material development. As a great girlfriend, you can be the one to start the ball rolling. This kind of undertakings will serve not only the relationships but also you personally.
10. Get his back
Life springs on surprises whenever and whoever. To become stronger we have to go through difficulties but even the strongest ones need support to pass this test. No matter what he is going trough in his life, minor difficulties or major troubles, the main is to know that there is someone to rely on.
Even if you have no chance to help with the problem itself, you can always be near and show that he isn't left alone. At least your beloved one needs to understand that he can come and share anything with no shame and fear and you will find the way out together. One of the things a girl should do for her boyfriend is to be by his side even if the whole world has turned against him.
11. Don't try to change him
Oh, how common this mistake is. I bet, so many would recognize themselves, reading this. No wonder, we always want to have everything our own way but people are not things and they don't belong to us. It's pointless trying to change somebody cause even if you believe it has worked out know, the other one is pretending and eventually it will no longer be permissible for him.
When this time comes, you will face what he has been hiding 5 times larger than before. Better, be more selective when you choose a boyfriend and ask yourself if there is something about him you won't put up with under any circumstances. No one is perfect but there are the things you can handle and those ones you cannot.
Be honest with yourself and your beloved one. In addition, important qualities of a good girlfriend are patience, tolerance and comprehension.
12. Know how to take a joke
Presence of the sense of humor is a subjective criterion but at least you should understand where the joke is. If your significant other possesses an excellent sense of humor, then he would look for somebody to understand and support his jokes so you should become that person.
If on the contrary, his jokes leave something to be desired, arm yourself with patience and at least don't be mad if one of them was unfortunate. Lots of men believe to be humorists so take it for granted and take it easy. There is nothing bad about laughing.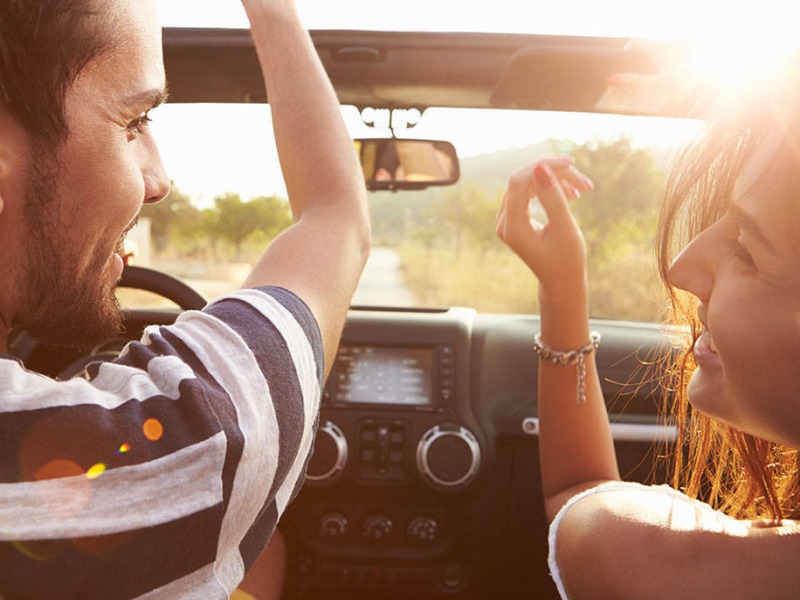 Source
13. Вe successful

Even if you are with him it doesn't mean you are behind him. Apart from the success of the relationships, don't forget to think of your own success. Building life together with a man is an important part of women's life but the harmony comes only when none of the spheres is ignored. Distribute forces, paying attention to your career and self-development.
14. Trust him
So siple to understand but so hard to perform. We all know that relationships are based on trust. You will never live in peace if you don't trust each other. In case you have ever had a negative experience in past, try to forget about it or at least don't introduce the old fears to a completely new story with your new boyfriend.
It's taboo to check his phone, laptop or try to eavesdrop his conversations. What are the reasons to wait for a trap or falseness? Why not believe in honesty between you? If you can't answer these questions positively, think whether your chosen one is the right person to be with.
15. Be a friend
It's the eternal question what guys want in a girlfriend. There is not even a single chance that it's all about sex, or appearance or the way she dresses. It goes without saying, you have to catch his eye but after that, the task is to hold it. We all hope to find a twin soul in our life, somebody to understand us, to support, to share our joys and interests and our sorrows.
Both men and women need that person in their life and this is what we call a friend. If you are in a relationship with a guy it doesn't mean you have to be only the object of his desire. Finding talking points, being frank and sincere, this is how to be a good girlfriend and a good friend for your significant other.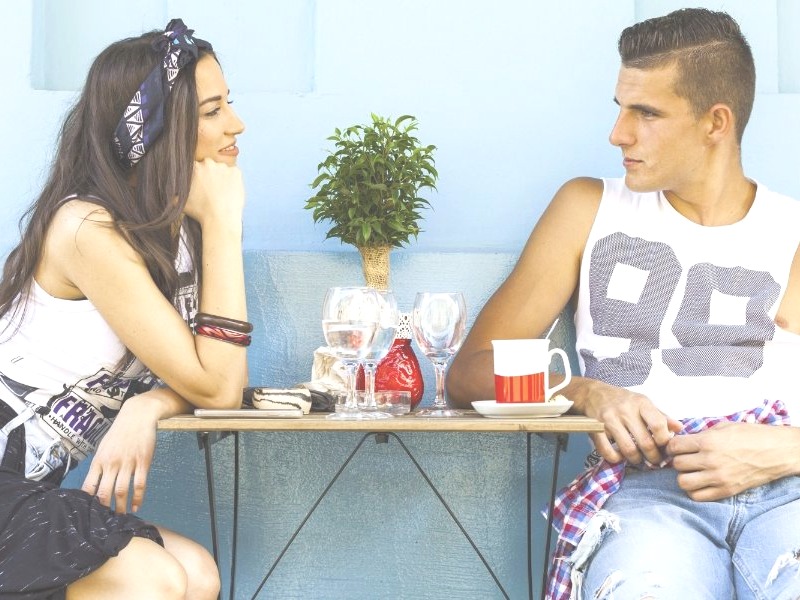 Source
16. Sex is a good cure for headaches

Being friends is awesome but sexual life no one canceled. At first, there is a hurricane of feelings between you two, however, with time the fire slowly fades away. This is not the reason to sink into a depression, one way or another. It only means that the time to change the approach has come. Don't be afraid to try something new, disclose his dearest dreams and make them come true.
Be different and surprise him with unexpected places or dear looks. Unpredictability is what makes a good girlfriend even better.
17. Fireside comfort is on you
Let's imagine that your relationship is being developed in the right direction and you are moving to his bachelor's house. Did you ever notice how different a place is when there is a woman? At least you can clearly see that someone rather lives there constantly than has just moved in. Coziness is women's domain.
Even if he has been staying there for ages he might have never felt like home, for a house doesn't mean a home yet. Get some stuff he never knew he needed, decorate it somehow, keep it ordered cozy and warm. After he has let you in his house he will let you in his life, don't miss the chance.
18. A hungry man is an angry man
Nowadays it's not a women's obligation to slave over a hot stove as everybody works hard and not always there is the time to lay the table. Sometimes you can eat out, order some food or leave your life companion to impress you with his culinary abilities but there have to be the days you do it yourself.
Everyone is able to warm pizza from delivery or even make scrambled eggs, however, a couple of more complicated dishes have to be your bargaining chip. A real girlfriend would never leave her man hungry! Inform yourself about his favorite dishes, learn to cook them and pamper your loved one from time to time.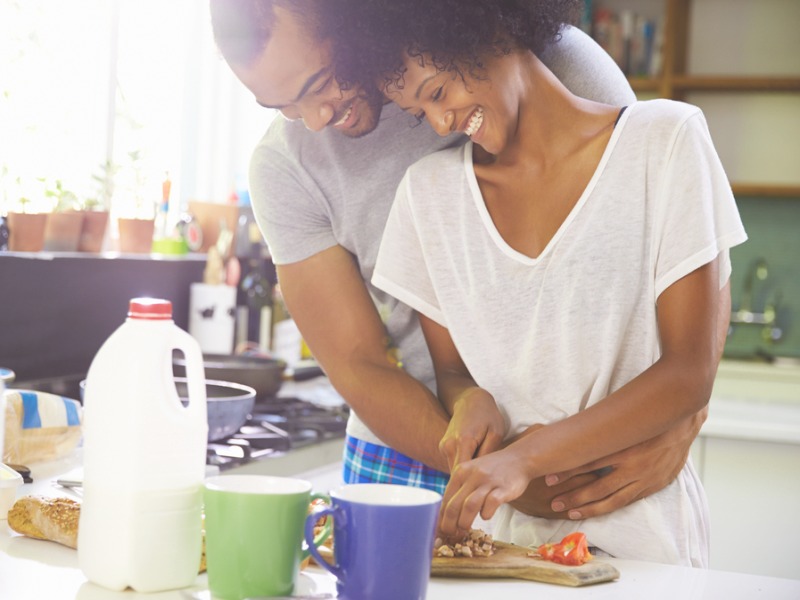 Source
19. Say "no" to bad health habits

It's said that we are the slaves of our habits, especially of those pernicious ones. True story, if you don't control something that something starts controlling you. It's clear enough that nothing good will come of smoking or drinking. Modern life rhythm wears out and we often look for alternative ways to relax but never let them become regular.
Health is given to one and all so it's important to take care of it. Moreover, on the subconscious level men look for a girl glowing with health because there will come a time for her to carry his child. If having bad habits is familiar to you try to fight them to become a better person and a perfect girlfriend.
20. Do sports
On your way to becoming the best girlfriend ever, it's easy to accidentally develop a perfect personality by improving yourself and your daily lifestyle. One of the good hobbies to take up is doing some sport. So many facilities nowadays are around us allowing us to choose anything we can imagine but the time for sport is never enough. This is the most popular excuse!
If there is enough motivation time will always be found. Sport is a perfect way of psychological relaxation and disease prevention. It helps us to feel good from the point of view of mental and physical state. That's not it. Why is the sport so important for women in particular? Regular exercises help to keep yourself fit and feel much more confident. Quite enough reasons to engage in.
21. Be happy with little things
If you are able to appreciate what you've got you will be getting more and more. In case your boyfriend washes the dishes or makes the bed, or brings the favorite chocolate of yours, try to be as happy as if he had bought you a new car. Everything starts with a little. If he sees how happy he makes you with small stuff he will be willing to see the way the big ones work. All in all, we like pleasing those we love especially if they treasure the things we do.
22. Spring surprises
If you love someone you naturally have a desire to do something for him. As you expect something from your boyfriend he may expect something from you. Small things work the best. You can begin with a culinary surprise, for example, cook one of the favorite dishes which only his mom knows how to do or choose something among your specialties.
If delicious things don't impress him any longer, get him a book he has being looking for or meet him wearing your new sexy underwear. You can remind him how your first date went or just come up with something that matters for you two only. Little amenities, which defuse the tension of the everyday routine, help to remember how important your relationships are and maintain romantic feelings.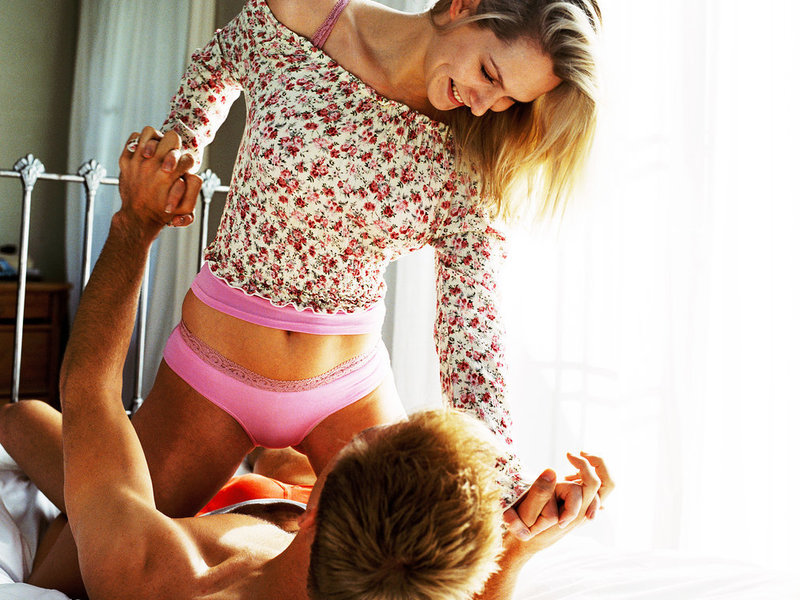 23. Be faithful and sincere

It just can't be another way. The absence of frankness and faithfulness, what is more, can destroy the trust and the whole relationships, after all. When you are with somebody you shouldn't be looking for traps all the time and shouldn't give a rise to doubts in your turn.
Faithfulness is a matter of respect, which shows how you treat yourself, your boyfriend and your attitude to the relationships in general.
24. Be quick off the mark
Life is full of opportunities and only we decide which ones to let in. How much better would it be if we all just went for what brings us joy and happiness? So why not do it? Somebody said that a day spent in an unknown place may bring you much more happiness than a life in your hometown. Same with everything, that's new. Travel, try things out and keep your mind opened. You never know what's waiting for you round the corner but you never will if you don't take a step.
25. Don't go in for dramatics
One of the most important issues of the perfect girlfriend list is being able to control yourself. If you wonder what guys want in a girlfriend, get ready to hear – no hysterics! Emotions are the language of women, which men simply don't understand. Indeed, we have to admit, not always they are full of meanings and essence.
It's extremely hard to keep feelings under control, however, with exaggerated reactions you will achieve nothing but a fight. If there is something to discuss give yourself the time and do it calm calmly. Simple conversations solve complicated problems while hysterics is an evidence of instability - something you would rather avoid in serious relationships.
26. Show you are proud of him
Our men are our heroes. At least this is something they should believe we think. Battered down a nail? Good job, none would ever be able to do it as good. Came up with a new project for work? His brightness and creativity are something that everyone aims to achieve! Be honest, however, if he is about to make a mistake you don't have to hide it from him.
In case your significant other is on the right way, stress the importance of his actions. Let him know you are convinced to have the best fiance ever and this is what he will become to come up to your expectations.
27. Have your say
It's very important to have your personal opinion and share what you think with others. Even in a relationship, you are not a shadow of somebody. In search of approval or trying to make him like you more, don't forget he already likes you for who you are. Express your points and discuss them together, remember that the truth is sprout in discussions. Have a say, he will only respect you for that.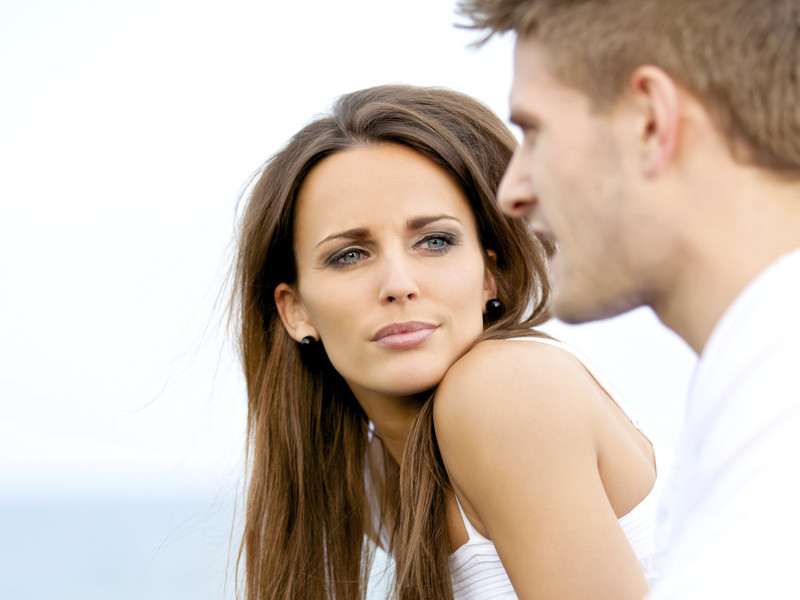 28. Take care of him

Don't know how to treat your boyfriend? Treat him with love and remember to show that love through your attitude. There are the things men simply don't notice, something about their look, something about their health, that's why it falls on our fragile shoulders. Don't exaggerate, however, a girlfriend is not mommy.
At the same time don't act like you are a stranger. Love is reflected in actions, so being a good girlfriend, don't forget to lavish your attention on your special one.
29. Respect him and don't restrict his freedom
When you think what guys want in a girlfriend, you have also to remember what they don't want. Would you like to hear your chosen one telling you what to do, where to go and who with? I bet no. If you are with somebody it doesn't mean you are a property of somebody. It concerns both, of course. We like men for their strength and independence, interfering into his private life you won't help to develop these qualities.
Don't act like an owner, even being in a relationship, everyone has the right to his personal freedom.
30. Be a bright spark
Happiness is contagious. One of the characteristics an ideal girlfriend should obtain is vivacity. Cheerful people attract more happiness in their life. Keep your head up and smile as much as you can even if you don't always feel like it, sooner or later you will be a lot happier than before. We all are willing to surround ourselves with bright, vibrant people. Be in the spotlight, sharing it with your significant other.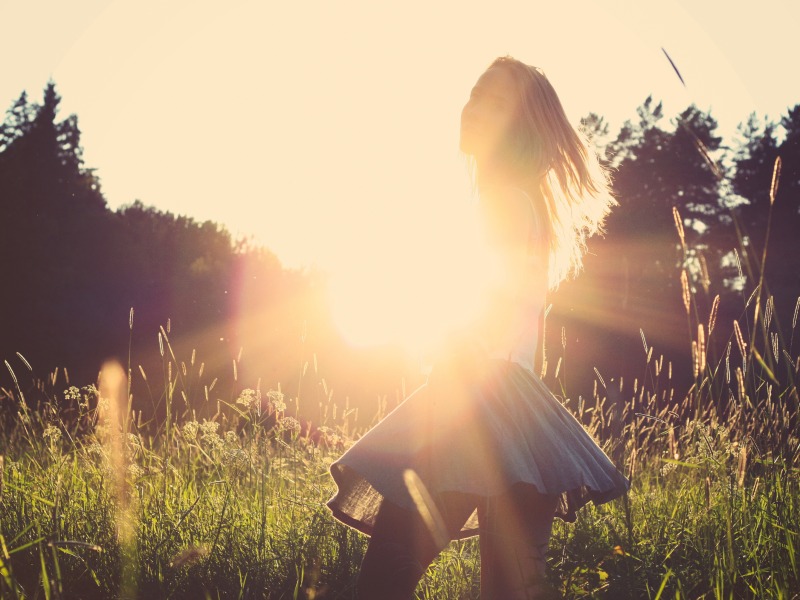 Source
31. Let him be strong

The last but not the least. Nowadays women have conquered equal rights in all the life spheres. That's not weird, nothing we can do worse than men can but the relationship is a whole another story. Romance is not a battlefield and you don't have to assert your rights there. Men need to give care and protection while we need to receive them.
Don't crash his attempts to demonstrate the strong qualities cause both will only benefit if you just let the things run their course.
Read also:
Awesome relationship with an ideal girlfriend is a holy grail for every guy. At the same time, girls wish to find a knight in shining armor. That's great for a fairy tale but what we have to learn for real is to see good in things surrounding us, to appreciate given and respect one another. You can become the best girlfriend ever, however, if you have the wrong person by your side he will never be able to notice that. All in all, relationships are the work of both which begins with the work on yourself. Go for it!
Watch a video about the girl who doesn't know how to be the best girlfriend: