So there's this girl you've been talking to for a while now and getting to know. Turns out that she's everything that you've been looking for in a woman. She's smart, beautiful and has a great sense of humor. You've formed a strong bond of friendship with her but now you want to take your relationship to the next level. So what do you now? How do you ask her out? I'm here to share with you some cute ways to ask a girl to be your girlfriend.
Creative ways to ask a girl to be your girlfriend
We all have a lot of love inside us but we don't know how to express it. It's important to think of some ways to ask a girl out to make sure there's no misunderstanding between the two of you. Women are intrigued when men take different and creative approaches to what many think is pointless. These methods will impress your queen and show her how much you care about her at the same time.
1. Change your contact name in her phone and call her
This one is for the tech-savvy guys who know how to get into their prospective girlfriend's phone. Go out with her and wait until she has to go to the bathroom or somewhere else, leaving her phone behind. Then change your contact name in her phone to "Will you be my girlfriend?" Wait till she comes back and then call her on her phone. She'll be impressed with your creativity.
2. Make a website for her
Designing an entire website dedicated to a girl and your memories with her is one of the creative ways to ask a girl to be your girlfriend. She'll be convinced of your love and commitment to her. The site can have photos of you and her together, stories and anecdotes of the times you've spent together, and poems of love dedicated to her. There's a lot that you can say with a website to show that you love her. There are many professional services available online that could help you in this endeavor.
3. Sing a Song For Her
Nothing impresses women more than a man who can sing. There are many ways in which you can use music to propose to the love of your life. You can find out what her favorite song is and sing it for her. Not only will she be impressed that you practiced singing for her, but she'll also notice that you went through the trouble of getting to know her closely and cared enough to find out her favorite song.
If you're feeling particularly confident, you can write a song for her instead. Personal and intimate lyrics that resonate with her personally will make her feel closer to you. The quote "Love is like music. First, you must play by the rules, then you must forget the rules and play from your heart." summarizes this point well.
4. Use Pizza
Girls love guys with a sense of humor as it shows that a guy is smart. Witty comments impress girls a lot. This makes this one of the funny ways of asking a girl out. It is perfect if you want to show her your humorous side. Bring her pizza because who doesn't love pizza? Inside the box, write a fun question like "Will you be my girlfriend or is that too cheesy?" She's guaranteed to blush and chuckle. She'll definitely notice the extra thought and care if you go to the lengths of finding out her favorite variety of pizza and her favorite toppings.
5. Ask Her Under the Stars
Stars make everything more romantic. Everything. Nothing beats a romantic evening under the stars. Take your girl to a roof-top restaurant and tell her everything you love about her before you propose to her. You could even take her up the canyon like they show in the movies and ask her there. Under the backdrop of a starry night, your proposal will be more authentic. She'll definitely be thinking about this night for many days to come when she reminisces about how her relationship with you started.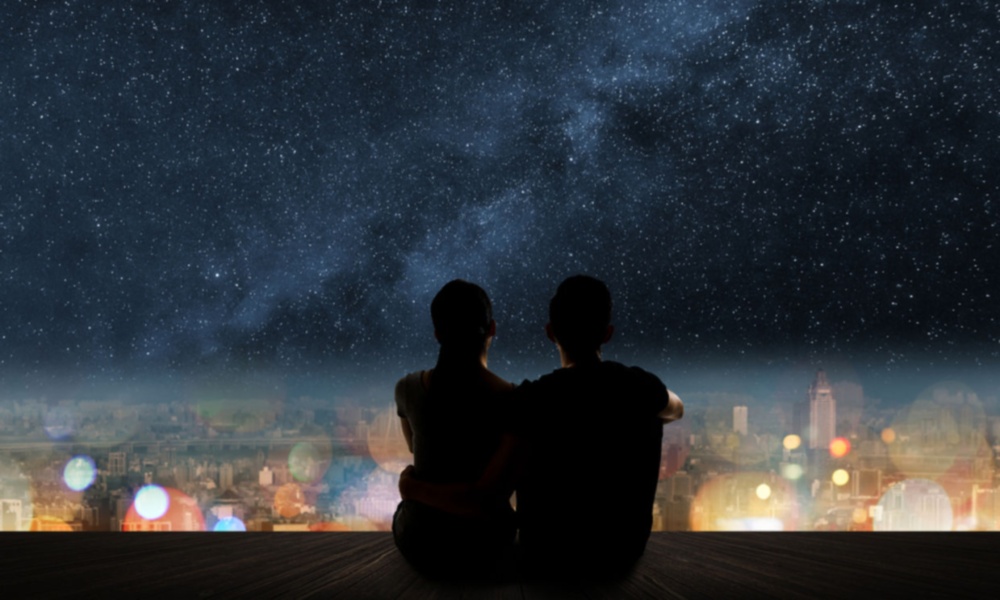 Source
6. Send a Greeting Card Everyday
Greeting cards are another of these good ways to ask a girl out. Send her a cute, nice looking greeting card everyday with a hand-written note inside describing something that you like about her or which makes her special. She will appreciate the time and effort you took to write each note. The notes will offer her insight into how you perceive her.
She'll realize how much you love her when she sees all the small things that you notice about her. Quotes describe, in few words, exactly what we feel. Don't shy away from including ones like "I swear I can't love you more than I do right now, and yet I know I will tomorrow." Quotes like these will show her your intellectual side and convey that you are well read. Women love that sort of man.
7. Just Tell Her Straight
It's no secret that women are impressed by confidence. There's nothing more confident than a man who can look into the woman of his heart's eyes and tell her how he feels about her. This approach is best suited for convincing practical and down to earth women to be your girl. She will appreciate your honesty and reciprocate by telling you directly how she feels about you. After all, "The heart wants what it wants. There's no logic to these things. You meet someone and you fall in love and that's that."
8. Let Your T-shirt Ask Her
You want to let your girl know how much you care about her without coming across as cheesy. Instead, you want to ask her out in a cool and trendy way that isn't embarrassing. Get a T-shirt with the million dollar question printed on it. This is one of many cool ways to ask a girl out and will definitely get her attention. She'll see you as a bold and interesting person who isn't afraid to wear his love for her.
9. Write a Poem or a Love Letter
Writing a poem is one of the very romantic ways to ask a girl out. While we rely on social media such as facebook and Whatsapp to flirt with girls today, in the past it was all about love letters and poems. There's something charming about penning your feelings for a girl in beautifully written letters or poems that really woos a girl. A love letter can allow you say all that you want to a girl without the pressure if saying it face to face. A well-written love letter becomes a cherished possession of a girl that she can read whenever she feels that she needs to be loved.
10. Throw a Surprise Party
If your girl's like most people, she'll love surprises. Call her friends up for this one and let them know how much you care about her and that you need their help to pull off something big for her. Her friends are likely to oblige as they want what's best for her. Together, you people can organize a surprise party for her focused around all the things she likes. Make sure to include most of her favorite activities.
Read also:
11. Use Fortune Cookies
Fortune cookies can be more useful that you think. They can be used for one of the clever ways of proposing to your girl. Take her out to a nice Chinese restaurant. Tell the manager to prepare a fortune cookie for you with the message "Be my girl" inside. After enjoying a delicious oriental meal, she'll be elated when she finds a personal message inside a fortune cookie.
12. Get Her Chocolate. Lots of it.
Everybody knows that women love chocolate. You can use this basic trait of women to your advantage by sending a message using chocolate. This is one of the unique ways of telling a girl that you love her. First, think of a cute and witty message to propose her with.
A great way to start the message would be to use a quote like, "In order to be happy oneself, it is important to make at least one other person happy." Then, get several chocolate bars ready and write down a part of your message on each bar. All that's left for you to do is present the chocolate bars to her and watch her reaction of amazement.
Make sure to use the brand of chocolate and flavor which she really likes to impress her even more.
13. Get Creative With Lego
Legos are a fun and easy way to express yourself. One of the creative ways to ask a girl out is to use these plastic blocks to construct a message or a scene which conveys your love for her. You can build a massive scene which shows the kind of life that you would like to share with her.
If you're short on ideas, there's no dearth of examples online that show you how to use lego effectively to convey your feelings of love. The scale of your execution and the attention to detail you implemented when building the model will make her feel special and let her know that you are a man who can plan and execute his ideas.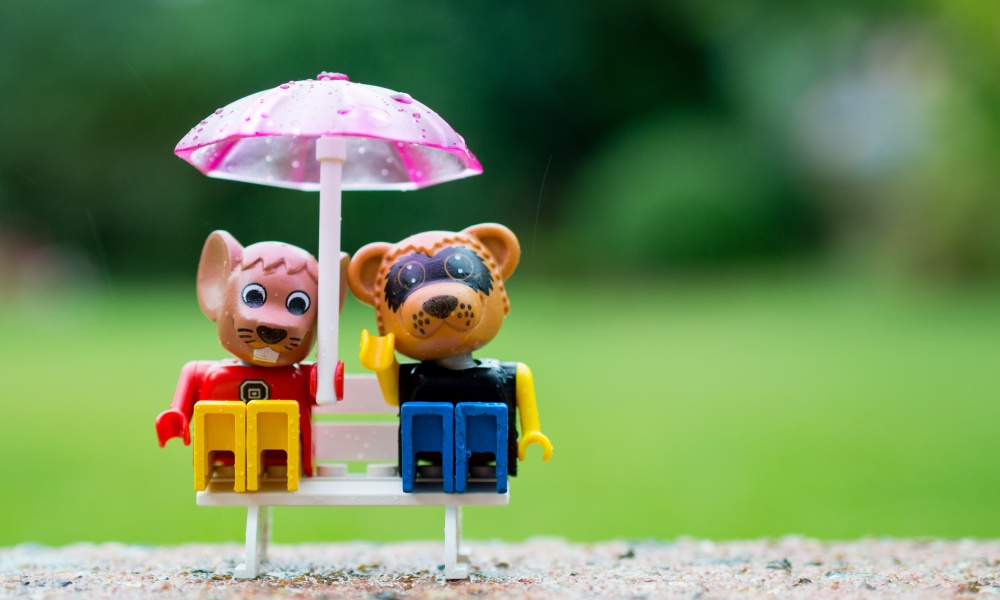 Source
14. Have Kids Help You
There's a reason why kids play such an important role in marriages. They are the closest thing to angels on earth.
Their cute and innocent presence livens up any occasion. Request a group of kids to help you and plan accordingly. Taking the help of children makes this one of the cute ways to propose to your crush. Come up with a unique message to woo your girl with. Then, make placards which each convey a part of your message. Finally, take the girl to a restaurant. When you want to propose to her, have the kids come holding the placards. She will be completely swayed by the cuteness of the children.
15. Take Her to the Movies
Going to the theater or multiplex and watching movies together is great for bonding. If you want to go, though, you'll have to know how to ask a girl to the movies. Find out which type of movie she likes to enjoy and also the time of day that would be convenient for her. Wait for a movie that you think she would enjoy or she has expressed interest in. Then just ask her out.
Once at the theater, you can impress her even more, when you ask her to be your girlfriend through the silver screen. Talk to the theater's management and organize for them to flash your proposal message during the intermission. Wait for intermission to see the expression of disbelief that spreads across her face when she finally reads how you feel about her. It will undoubtedly be the most unforgettable experience of her life.
16. Make a Video For Her
A short, personal video is a great way to announce your love for someone. Shoot a video, pretending that the camera is your girl, and tell her everything that you would like to say to her face but are too embarrassed to. Talk about how she's been a positive influence in your life, how she completes you and how much she means to you. Include footage of happy moments together and make a slideshow from the best photos of the two of you. Don't forget about the music! A great background score will tie everything up and cause her to feel an emotional connection to you.
17. Lunch Box Delivery
Find a cute looking lunch box and make lunch for her! Why? Because food! Girls love food as much as guys do. Find her favorite dishes and make a meal for her yourself. Wrap it up nicely in the lunch box and deliver it to her or keep it somewhere, where she will come across it. This creative way of asking a girl out will get you to her heart, through her stomach. As they say, "Love at first bite."
18. Ask Her On Her Birthday
The best way to ask a girl out is to ask her on her birthday. On her special day, she'll be on top of the world and will be feeling very happy. This is the best moment to tell her how you feel about her and make her know how much she means to you. Get her a gift which really shows that you care for her. Something that is associated with a happy memory together that you both have shared. You can also get her a cake with a message asking her if she wants to be your girlfriend written in icing. Your proposal will be the icing on the cake on her birthday, literally.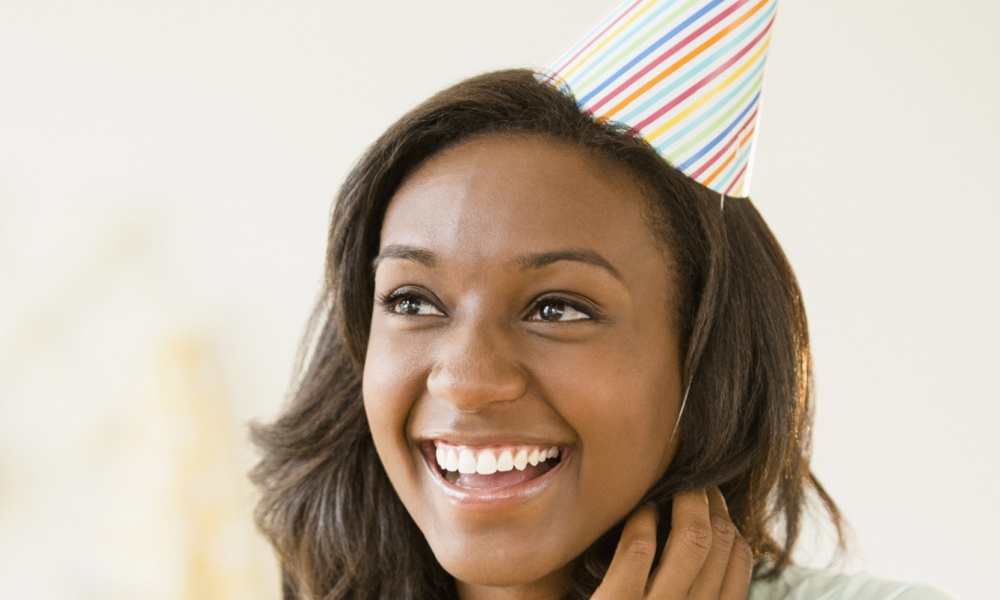 Source
Regardless of which of these methods you use, if your feelings are true, your love will prevail. Try your best and speak from your heart. Express your affection to the girl you love genuinely.
Curabitur sodales neque a nisi cursus accumsan. Aliquam arcu ligula, imperdiet sed diam non, pulvinar mattis nisl.
- Franklin D. Roosevelt
In this video you will see one of the cute ways to ask a girl to be your girlfriend: